A lavish holiday, or a day just doing nothing.

Head south by car for 5 minutes from downtown Ureshino.
Discover "Shiibasanso", a secluded ryokan standing along the Siiba River between the deep green of Mt. Shiiba and tranquil terraced rice fields. The rustle of the trees, the murmur of the river, songs of birds, and sounds of insects that drift to you on the clear winds from the mountains. The sound of silence, along with the beautiful scenery of the valley that changes with the seasons, uplift the soul and enable you to feel the luxury of simply doing nothing. Let yourself go with the tranquil flow of passing time with the view in front of you, which is definitely a part of Ureshino Onsen, but somehow not quite like the rest of it. How would you like to end your day, and start a new the next day?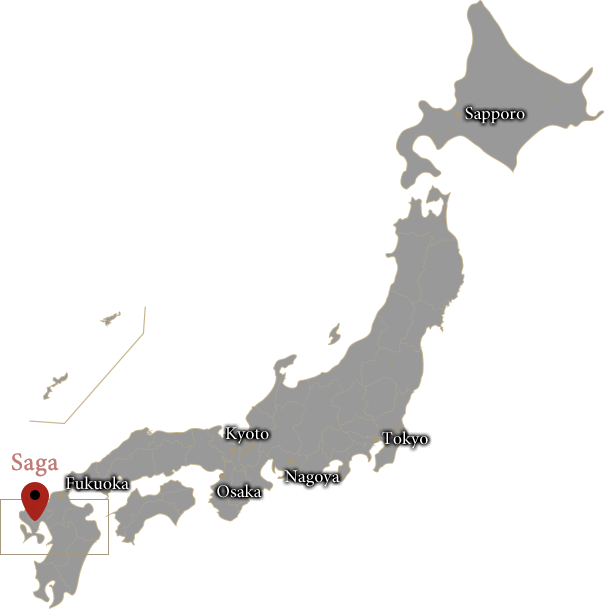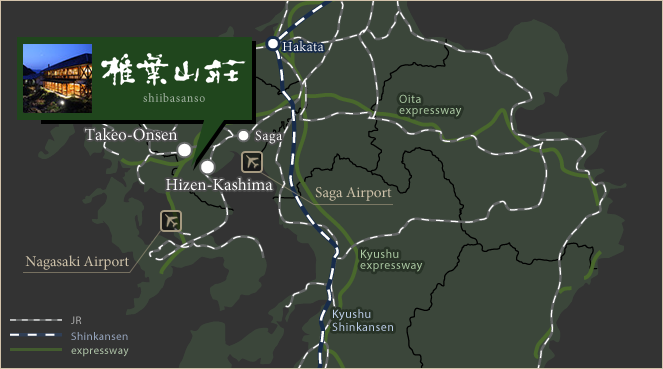 Airport limousine taxi

(Saga Airport → Ureshino Onsen Town)


At Ureshino Onsen, renowned as one of the three major waters of beautiful skin in Japan, there is a hot spring town where you can taste specialty teas and dip your feet in a free footbath.
Other popular sightseeing spots include Hizen Yume Kaido and Todoroki Falls.
Toyotamahime Shinto Shrine

豊玉姫神社

A shrine dedicated to Toyotamahime, also known as Otohime of the dragon king palace, who was the daughter of the god of the sea. The white catfish said to have been Toyotamahime's messenger is also enshrined, and they say that if you pour water over it and pray, your skin will become beautiful.
Todoroki Falls

轟の滝

Enjoy the 11-meter high water fall split into three stages. The water fall is situated within a park where cherry blossoms bloom throughout during spring, which is a delightful sight to see.
Hizen Yume Kaido Ninja Park

肥前夢街道

An interactive, historical theme park reproducing the Nagasaki Kaido of the early Edo period. Among the various attractions, you can watch a fun ninja show at Ninja Yashiki packed with tricks, and take a commemorative photos at the Shashinkan.
Hizen Yoshida-Yaki Pottery Hall

肥前吉田焼窯元会館

The hall displays and sells Ureshino's long-historied Yoshida-Yaki pottery. You can try pottery painting or make your own piece by hand.