The renowned Ureshino Onsen is one of Japan's three best waters of beautiful skin.

The hot, colorless and transparent spring water, which includes high levels of sodium, is of a quality rarely found even in Japan. It moisturizes keratinized skin, leaving it sleek and smooth after a bath.
At Shiibasanso, you will find the "Yama no Yu" within the ryokan, which has separate bathing spaces with open-air baths for men and ladies; and "Shiiba no Yu" outside the ryokan, a large open-air bath with a restaurant, "Yamaboshi". Enjoy at your leisure the water from Shiibasanso's own spring source, which is gentle on your skin and body.

Taishoya Group Privileges for staying guests Exploring the four hot springs

Guests staying at either Taishoya, Shiibasanso, or Yushuku Seiryuu are welcome to use any of "Shiki no Yu" and "Taki no Yu" at Taishoya, "Yama no Yu" and "Shiiba no Yu" at Shiibasanso. (Free courtesy lifts available) If you would like to use this service, please contact our front desk.
Taishoya「Shiki no Yu」
Taishoya「Taki no Yu」
Shiibasanso「Yama no Yu」
Shiibasanso「Shiiba no Yu」

Guest rooms, each with their own attractive features.

We offer various room types to suit the purpose of your stay.
Each room has its own unique features. No matter which room you choose, it will have been designed with Shiibasanso's consideration for comfort.

Free Wi-Fi is available in all guest rooms.

Savor seasonal tastes nurtured by mother nature in our monthly changing specials served on large plates.
All diners' portions of the Kyoto-style side dishes, appetizers, and sashimi are served together on large plates or in bowls, brought to your table one after the other.
Enjoy sharing the dishes with close friends and family in the serenity surrounding the ryokan.
The meals are prepared centered around seasonable vegetables and fish all from Ureshino, with Taishoya's premium beef shabu-shabu as the main dish.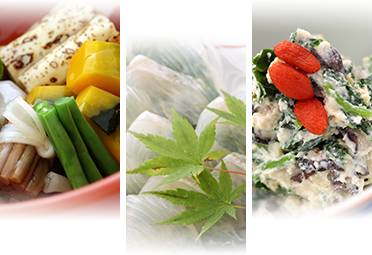 A ryokan standing along the Shiiba River, where peaceful time passes by.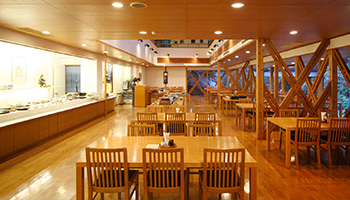 The ryokan offers magnificent views of the waterfall and mountain streams from the windows.
As the ryokan stands along the river, you can enjoy a leisurely stay in your room with the murmur of the water in the background.
We received a "top class comfort" rating in the Michelin Guide Fukuoka Saga Special Edition.